How Did I Get to Write for Dr. Seuss?
One of the questions I'm asked almost every day is how I got to write the new line of Cat in the Hat books for Random House. I started writing children's books in 1985 when my first book for Sesame Street, "Bert and the Broken Teapot" was published.
Over the years, I continued writing books for Sesame Street, Disney, Blue's Clues, Bear in the Big Blue House, Clifford, Curious George and Huff and Puff, to name a few. Finally I decided to write a story about my own character Maurus O'Raurus, the Oops-a-saurus.
Maurus O'Raurus was an Oops-a-saurus
who had the best voice in the Dinosaur chorus
he liked to play tennis and swim in the sea
but mostly he liked to eat fresh broccoli.
I thought it was pretty "Seussical" so I sent it in to Random House. Months later I got a call and they told me they had "bad news and good news." The bad news was they weren't going to publish Maurus the Oops-a-saurus, but the good news was they were looking for someone to take over writing for the Cat in the Hat following Dr. Seuss's death in 1991. The series was called The Cat in the Hat's Learning Library and featured non-fiction RHYMING books about science!
When birds want to go
on a winter vacation
they all take a trip
and they call it migration.
My first two books, Is a Camel a Mammel? and Fine Feathered Friends were published in 1998. The books were so successful that my contract was extended and to date I have written 18 books in the series on subjects like space, deserts, bugs, the human body, cats, dogs, maps, reptiles and butterflies.
The Cat in the Hat Knows a Lot About That!TM is an award-winning series and website that is designed to spark a love of learning and an interest in science and math for preschool-aged children. The series was based on the best-selling book series The Cat in the Hat's Learning Library which features non-fiction science books for early readers on such topics as space, the human body, bugs, reptiles, cats, dogs, butterflies, maps and deserts.
Who Hatches the Egg? Laying eggs is what birds, insects, and spiders do. Most amphibians, fish, and reptiles do, too.
High? Low? Where Did It Go?
Some animals hide right in front of your eyes. They are hard to see 'cause they wear a disguise.
Out of Sight Till Tonight!
To survive, nocturnal animals have had to adapt to different conditions in their habitat.
Can You See a Chimpanzee?
Galagos are called bush babies, and this is why: the noise they make sounds like a human baby's cry.
Clam I Am!
Clam-I-Am has two shells. They have rings you see here. Each ring shows how much she has grown every year.
Fine Feathered Friends
The chickadee's named for the sound of its song. It chick-a-dee-dees in the trees all day long.
If I Ran the Dog Show
Dogs are carnivores which means they eat meat. Their sharp teeth help make the meat easy to eat.
Inside Your Outside
Bones shape our bodies and help us stand tall. We've two hundred and six. Some are big. Some are small.
Is A Camel A Mammal?
When a mom armadillo has babies, you'll find she has four. They're all boys or all girls - just one kind.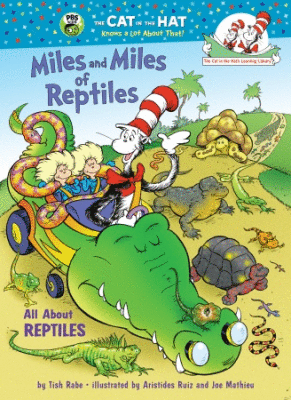 Miles and Miles of Reptiles
Crocodiles have sharp teeth and they walk on four legs. Their feet have sharp claws. Their young hatch from eggs.
My Oh My A Butterfly!
Caterpillars hatch out of a butterfly's eggs! They look like small worms and have eight pairs of legs.
Oh Say Can You Say What's the Weather Today? Anemometers measure how fast the wind goes. A wind vane will show you which way the wind blows.
Oh, the Pets You Can Get!
Guinea pigs nibble veggies fruits, grass, grain and seeds. Clean water is something that every pet needs.
Oh the Things You Can Do that are Good for You! In the morning, your body needs food right away. So be sure to eat breakfast to start off each day!
On Beyond Bugs!
Watch an insect and see all the things that it does. Some can swim, jump or crawl. Others chirp, flash or buzz.
There's a Map on My Lap!
Sometimes maps use pictures to show where things are. A capital city is marked with a star.